On Wednesday 16th November I presented the Feeding Products for Babies and Children (Advertising and Promotion) Bill under the ten minute rule. My Bill seeks to ban formula milk companies from making misleading statements about the nutritional value of their formula milk products in marketing and advertising. My Bill aims to give parents the access to the best quality information about formula milks so that they can make the right decisions when feeding their babies and young children.
I was delighted that the Bill cleared its first parliamentary hurdle and its Second Reading will be taking place on 24th February 2017.
Update – 9th January 2017
Many thanks to all those who took part in my consultation on my draft proposals for the Feeding Products for Babies and Children (Advertising and Promotion) Bill. We received a fantastic number of responses, which we will consider carefully for inclusion in the Bill's contents. An update on the outcome of the consultation will be published prior to the Bill's Second Reading on 24th February 2017.
Update – 29th January 2017
I have no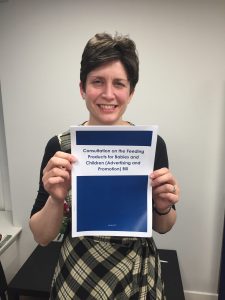 w published an analysis of the responses to the consultation document. I received over 300 responses with people from across all walks of life and from across their world giving me their views on marketing of formula milk and I am grateful to all those who took their time to take part in the consultation. I will now be drafting the Bill prior to its Second Reading on Friday 24th February.
Update – 22nd February 2017
The Bill has now been published, taking into account the suggestions provided by those that responded to my consultation. If passed into law, my bill will:
Introduce plain packaging for all formula milks;
Establish a body, totally independent of industry, to test all products and verify the claims of manufacturers prior to them being licensed for sale;
Ban the use of misleading terms such as "follow-on" or "growing-up" formula milks;
Stop companies from circumventing existing laws by introducing a ban on identical packaging for stage two and subsequent products;
Prohibit formula companies from advertising in health journals and magazines;
Bring forward tougher penalties for companies who flaunt the legislation, including greater financial fines and prison sentences for company CEOs;
Ban advertising of formula milks on TV, social media, the internet and through parenting clubs.
You can read the Bill online and follow its progress through the House of Commons. You can also watch my interview with BBC Breakfast explaining why the Bill is necessary and what it will do to provide parents with the right nutritional information for feeding their babies and clamp down on misleading claims by formula milk companies in packaging and advertising their products.