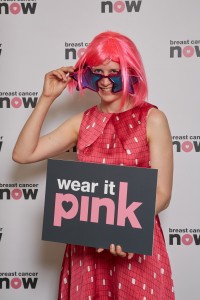 Alison Thewliss, MP for Glasgow Central, has shown her support for women with breast cancer by dressing up in pink and encouraging her constituents to take part in Breast Cancer Now's flagship fundraiser, wear it pink, tomorrow (Friday 23rd October).
'wear it pink', the UK's biggest pink fundraiser, calls on supporters across the country to ditch the day-to-day colours and pull on some pink to ra…ise money for Breast Cancer Now's life-saving breast cancer research.
The Glasgow Central MP joined fellow parliamentarians in wearing it pink in Westminster recently to encourage people across the UK to get involved. Now in its 14th year, wear it pink raises over £2 million each year for world-class research into breast cancer, and this year it is back and bigger, brighter and bolder than ever before.
Anyone can take part, whether in school, at work or at home. All you have to do is wear something pink and donate whatever you can.
Commenting, Alison Thewliss MP said:
"Right now breast cancer is at a tipping point. Every year in the UK around 50,000 women are diagnosed with breast cancer, and sadly nearly 12,000 women still lose their lives to the disease. This is why we all must come together to support Breast Cancer Now's cutting-edge research, and, in wear it pink, there is a fun and simple way for everyone to get involved.
"I am particularly passionate about standing up for the women and families affected by the disease in Glasgow and I am very proud to take part in wear it pink. I hope everyone in the local community will join me in wearing it pink on Friday 23 October and show their support for Breast Cancer Now."