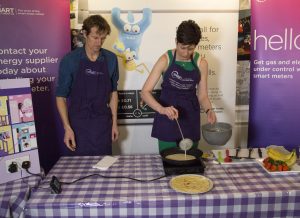 Alison Thewliss, MP for Glasgow Central, has gone head to head with MPs from across the political spectrum as part of the Westminster Pancake Challenge, an energy-saving cooking competition to raise awareness of how smart meters help people save energy.
Tasked with whisking up the best plate of pancakes for the least energy possible, Alison Thewliss MP took on several other MPs in the cook-off, which was judged by Great British Bake-Off finalist Ian Cumming.
Visualising the cost of your household energy is key to finding ways to reduce bills, and Alison had the help of a smart meter to see how much her energy was costing while cooking. Alison used 3.6 pence worth of energy to make her 3 pancakes.
Available at no extra cost from your energy supplier, a smart meter will show you exactly how much you are spending on energy in near real time, helping you to manage your energy at home, reduce waste and bring bills down.
Alison Thewliss MP said: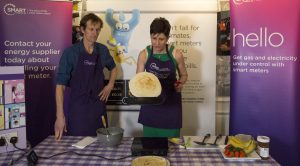 "Taking on the Westminster Pancake Challenge was great fun and helped me with my preparations for Pancake Day! It also demonstrated how much energy can be consumed when preparing food and how costs of using energy can mount up very quickly.
"Many constituents will find that smart meters can help with budgeting and bringing down energy bills and they should be offered the option of a smart meter by their energy provider. I and my staff are also on hand to provide advice to reduce energy bills – get in touch and we would be more than happy to offer energy saving tips and direct constituents to organisations that can help with the cost of living."
Great British Bake-Off star Ian Cumming said:
"Pancakes can be tricky to flip at the best of times, but the politicians did an excellent job with nothing dropped on the floor or stuck to the ceiling.
"During the challenge, I kept an eye on how much energy Alison Thewliss MP was using, with the help of a smart meter in-home display. Being able to see the cost of the energy you use when you're cooking, is key to bringing bills down.
"With so many gadgets, hobs and ovens, the kitchen can be a real draw on energy, but I think everyone was impressed by how a smart meter can help you save in the kitchen"
Robert Cheesewright, Director of Policy and Communications at Smart Energy GB said:
"The pancake challenge was great fun and I'm really pleased that so many MPs from across the country have come together to demonstrate how smart meters can help households reduce their energy bills."