Alison Thewliss, SNP MP for Glasgow Central, today signed a pledge to #PassOnPlastic with Sky Ocean Rescue – a commitment to reduce single-use plastic consumption. Launched in January 2017, Sky Ocean Rescue aims to shine a spotlight on the issues of ocean health, particularly single-use plastic, and inspire people to make small changes. The #PassOnPlastic pledge was also signed by 113 MPs, all making a public commitment to reduce their consumption of single-use plastics.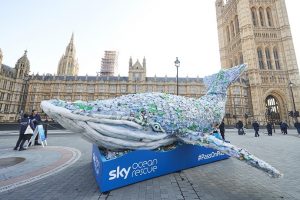 Sky Ocean Rescue's whale, Plasticus, which is made up of a quarter of a ton of plastic – the amount that enters our oceans every second – arrived outside Parliament to bring to life the scale of the problem.
Commenting, Alison Thewliss MP said:
"Sky have been working hard to raise awareness of ocean health and I am delighted to join their campaign and look at ways to reduce my own plastic consumption. It is deeply worrying that there are 5 trillion pieces of plastic in the world's oceans, with 8 million tonnes more ending up there every year. We all have a role to play in protecting our oceans – that's why I have signed my pledge to #PassOnPlastic and encourage others to do the same."
Find out more about Sky Ocean Rescue on social media @SkyOceanRescue and on the Sky Ocean Rescue website.