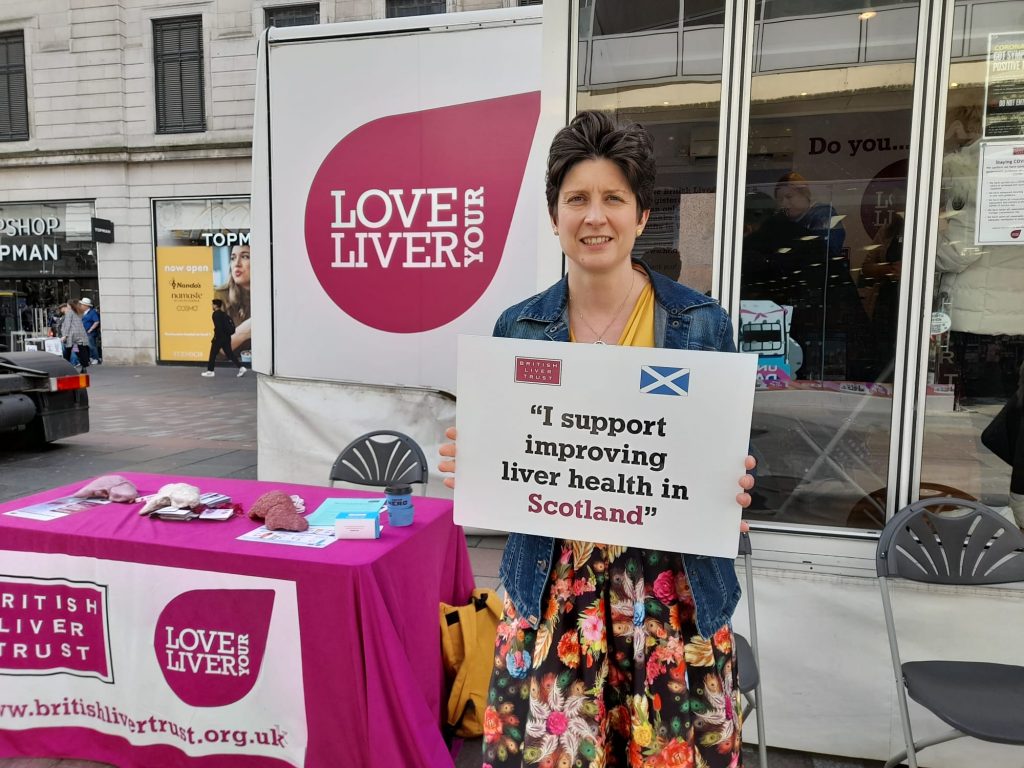 Glasgow Central MP Alison Thewliss demonstrated her support for improving liver health in Scotland by attending the Love Your Liver roadshow, hosted by the British Liver Trust, in Glasgow on Thursday 19th May 2022.
Ms Thewliss is an advocate for the British Liver Trust's work and recognises the importance of improving early diagnosis of liver disease. She encouraged her constituents and the people of Glasgow to attend the roadshow and find out the steps they can take to improve their liver health.
90% of liver disease is preventable and if caught at an early stage liver damage can be reversed. However, the alarming reality is that three-quarters of people with cirrhosis are diagnosed when it is too late for effective intervention or treatment.
Commenting, Alison Thewliss MP said: "I am delighted to support the Love Your Liver campaign and the charity's work to improve early detection.  Liver disease is a public health crisis and thousands of Scots are at risk.  The Love Your Liver roadshow is a really important campaign, which is helping people better understand the importance of looking after their liver."
Members of the public were encouraged to pop along to the Love Your Liver mobile unit in Argyle street to take a free liver screener, which assesses the potential for liver damage against the three main risk factors of alcohol, obesity and viral hepatitis. A free FibroScan was offered to those who had a potential risk and those with high readings were recommended to speak to their GP.
Scotland has a significant liver disease crisis with around 900 deaths each year. In 2020, it was one of the leading causes of death in Scotland in those under the age of 75. Mortality rates are also four times higher in deprived areas compared to more affluent areas.
Pamela Healy OBE, Chief Executive of British Liver Trust, said: "One in five of us are at risk of liver disease and the numbers of people being diagnosed have been increasing at an alarming rate. Liver damage develops silently with no signs or symptoms and people often don't realise they have a problem until it is too late. Although the liver is remarkably resilient, if left until symptoms appear, the damage is often irreversible.
"Our Love Your Liver roadshows are a great opportunity for people to find out their risk of liver disease and receive a free liver scan to see if there is any early damage. Approximately one in five people that are scanned are advised to have further checks."
The British Liver Trust's Love Your Liver campaign focuses on three simple steps for liver health:
1. Drink within recommended limits and have three consecutive days off alcohol every week
2. Cut down on sugar, carbohydrates and fat, and take more exercise
3. Know the risk factors for viral hepatitis and get tested or vaccinated if at risk
You can find out if you are at risk and check your liver health online by doing the online screening test at https://www.britishlivertrust.org.uk/screener
For more If you couldn't attend the events you can still find out if you are at risk and check your liver information on our Roadshows, visit: Love Your Liver Roadshows